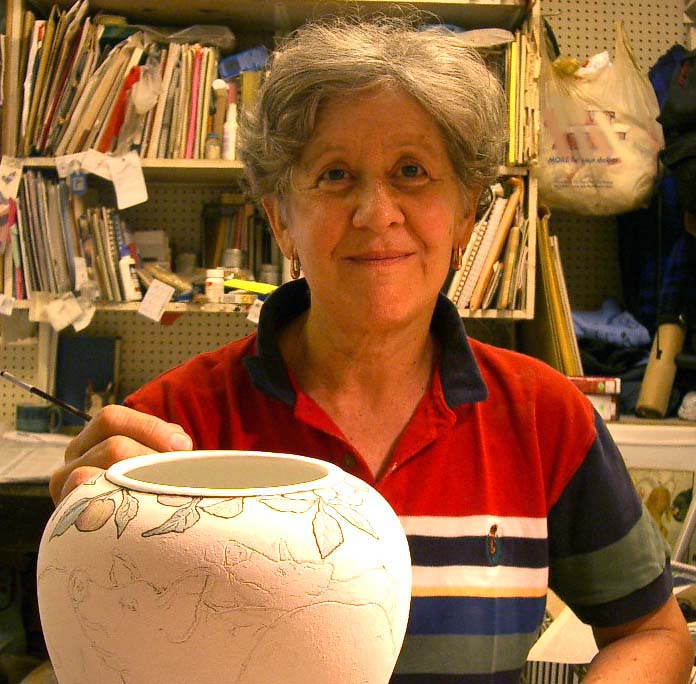 Hi, I'm Nan. Here I'm working on a pot at Mudville. If you'd like to know more about how I make my pots, Designing Pots should answer many of your questions. You'll find pictures of pots from start to finish as well as thoughts about working on curved surfaces, techniques, glaze information and more. I hope these pages will give people unfamiliar with making pottery some knowlege of what's involved in the process as well as provide information for potters who would like to know more about the techniques I use.
When I'm not cooking up pots, lots of the time you can find me in the kitchen. Check out the recipe section where you'll find some of my favorite recipes. These are mostly be fast and easy but there are also some food projects that, while more time-consuming, are definitely worth making. I'll keep adding recipes so if you like to cook, check in every now and then...
You'd think I'd get enough drawing in my life with all I do on pots but after the curved surfaces of the pots, it's different to play around with flat surfaces, too. I've worked on paper with pencils when it's too cold out for gardening and that's been fun. There's a section with prints I've made of some of these drawings and you can find them in the Drawing Room.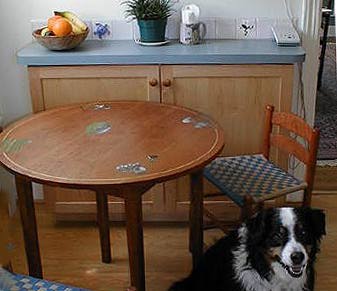 Plus, there will be other things I've worked on, like Jane's table or the items I've designed to help raise money for Airedale Rescue.

And what's a website without links to other sites that I find interesting or helpful.
A map of this site may help you navigate through. You can e-mail me here with any suggestions, corrections or feedback. Thanks and I hope you enjoy your visit!