Clancy was the fourth puppy born in Hazel's litter. Definitely not an alpha pup, Clancy was sweet and gentle from the start. In the litter box, he was dubbed the "shy guy". Feeling like he needed a quiet home, he was one of the last puppies placed. When Alice Kessler called, I explained that there were two pups left, one a conformation possiblity that I was thinking about keeping and a shy pup that might not fit in a boisterous family setting.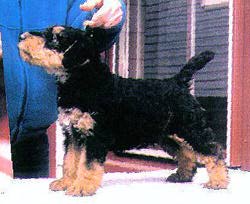 The family, Alice, Bill, Amanda (9) and Brian (11) decided to come and meet the pups. There were 4 puppies here that day, but Clancy rushed right over to Brian and Amanda, almost claiming them. After a half hour of playing with the puppies, Alice asked which puppy was the "shy guy". It was clearly a match made in heaven. This is Clancy a few days before he went to live with the Kessler's.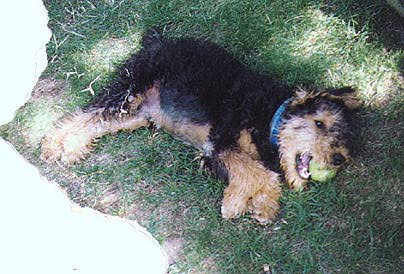 Once Clancy got home, he was a normal Airedale pup, intent on keeping the household lively. He chewed up his share of household objects, including this picture, happily, leaving his own image intact. He had a best friend, a bold Airedale in the neighborhood, who moved in downstairs for a while. Meeting new dogs, Clancy remained the "shy guy" but he was never shy with people. Clancy assumed they were all waiting for a big, wet Airedale kiss.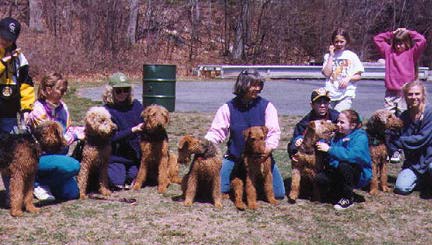 This picture is taken at Clancy's litter reunion. That's Clancy looking at Amanda with Brian behind, to the right of Hazel and Dinah, who are in the middle.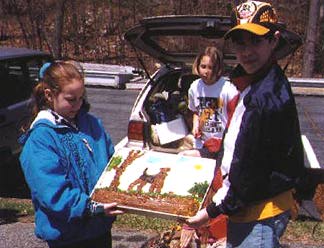 Amanda and Brian brought a beautiful Clancy inspired cake that they had made to the litter reunion. Not only was it artistic, but it was VERY good to eat!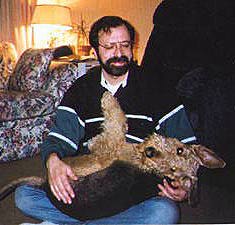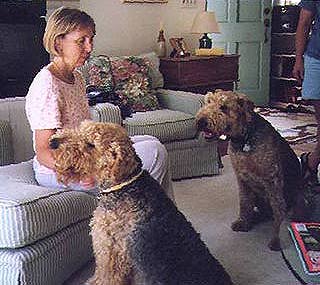 Clancy grew up and was loved by all who knew him. Here he is in Bill's lap, a favorite place to be. Sometimes he spent a week or two with his uncle Hobbes (right) and Susannah, Hobbes' mom. The first time Clancy came to visit, Susannah wanted him to stay forever ("Ha!", said Alice, and Clancy agreed as he was devoted to his family). Hobbes was depressed for a week with his buddy gone. Clancy was welcome where ever he went.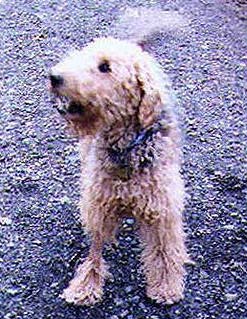 In the fall of 1999, Clancy became ill and the lymph nodes in his neck became enormously swollen. To the devastation of his family, Clancy was diagnosed with stage 4 leukemia. It was only a matter of time before the disease claimed him. He received chemotherapy, and was put on prednisone. His enthusiasm for life remained unabated as did his appetite. We spent some time with him around Christmas time, and despite his illness, he was his normal cheerful Airedale self. He hiked in the woods with Hazel and Dinah almost every day, and his tail never stopped wagging. This picture was taken about three weeks before he died.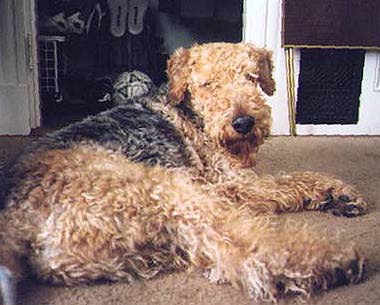 This is Clancy as we will all remember him, a dog happy to be underfoot, at home with his family. Rest in peace.